Itinerant

parade

with

street artists
CIRCONDATI DA SOSPETTI CIRCENSI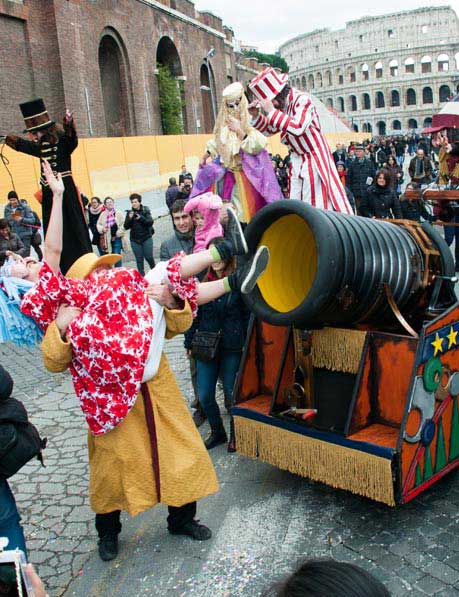 This is the itinerant version of the show C.S.C. Surrounded by Circus Suspects.
The arrival of the circus in town creates a clear picture in everybody's minds. The most romantic recollections are evoked by the caravans of circuses and funfairs going around the world, leaving in each venue a pinch of poetry.
Literature and films often tell about the excitement of awaiting the arrival of the circus. This parade stages that moment, when in the distance you start to first hear and then to see, the arrival of the circus".
Finally the wait is over, the circus has arrived and all are queued to celebrate the parade. Along the way you will find that the funny characters are a family of rather strange artists, so clumsy that it becomes comical.

TECHNICAL NOTES
The parade is accompanied by theatrical machinery similar to a cannon. Amplified, it emits the sound track of the staging and is equipped with its own electricity supply.
As it is an itinerant show, a route free from architectural barriers (stairs etc) is preferred.
The show is suitable for audiences of all ages and lasts approximately 50 minutes. Where preferred, may be used a route with checkpoints where the parade stops to provide short performances (aerial dance, performance of fire, etc.)
ARTISTIC NOTES